In the great mining depression of 1983, I survived by returning to South Africa to work in the mining industry.  I will always be grateful to the people and the industry that made it possible for me to pay the mortgage at 18.6 percent and keep the Vancouver kids fed and clothed. 
The current economic situation does not yet seem to be putting many North American mining industry folk out of work and we hope it stays that way.  But still it is instructive to take a look at the jobs in mining in Africa, just in case you have to do what I did nearly 25 years ago.
As always my source of information is CareerMine.   When I last looked there were some 1,091 mining-related jobs in Africa in their list.  South Africa accounted for 814 of them, with but 47 in the Congo, 16 in Zambia, 16 in Namibia, 11 in Tanzania, 11 in Madagascar, 10 in Mozambique, 8 in Mali, 8 in Niger, and 7 in Guinea.
Across Africa, the jobs broke down thus by profession: Geology = 143; Mill & Metallurgy = 127; Environmental Science = 16; Mining Production = 45; Mechanical = 136; Engineering = 330; Management & Administration = 429; Technicians = 139; and Trade & Skill =143. 
The point is there are many jobs listed, although I cannot vouchsafe for their current existence given the cuts the majors have been making of late. 
As a kind of thought experiment I decided to see which job I would take. 
I have to ignore the many jobs for mining engineers and mine managers.  As a blogger, I am clearly not trained for that.  I was born and brought up on the Witwatersrand, but I am told that it is kind of violent there just now, so I will avoid those jobs.  Cape Town is relatively calm, so I chose the job for the Associate or Principle Engineer in Cape Town.  All  you have to do is this:
Plan and execute geotechnical & materials investigations; develop mining plans, technical reports, tenders, quotes & proposals.  Manage all aspects of geotechnical & materials related project, e.g., investigating for infrastructure, dams, and roads. 
I could do that and in Cape Town.  Rather tempting.  Certainly better than the job in Pretoria where I would be required to "conduct the design of infrastructure in the mining and industrial environments with specific application to waste disposal facilites."  Although I would probably be better qualified for that job, I do not favor Pretoria as a place to live.  
The point is that there are many jobs for mining, civil, mechanical, electrical, and metallurgical engineers in South Africa right now.  A reflection of the brain drain that brought them all to North America where they are currently competing for your job.  In addition, there are many jobs for those without an engineering degree.  The one I liked best was near Rustenburg, Mooinooi, and Brits.  It is my favorite part of South Africa, although most would say I am mad in so thinking.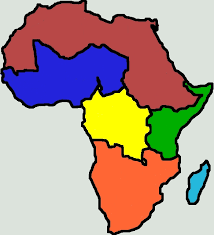 None of the job applications I accessed gave the name of the company seeking staff.  I bet if you look deep you will find most of the consultants and all the mining houses looking for staff.  The choice is yours and wide open.
To be honest, there are disadvantages in working in Africa.  In 1983, it was fun.  I spent three months in an apartment in Hillbrow and partied every night.  You could not do that today.  Then I moved out north and shared a house with Adrian and Barbara Smith.  The only problem there was that Adrian insisted on trying to be a vegetarian.  With lots of money and devoted servants, we ate so much cheese and nuts and drunk so much wine that we got fat.  I called it off to loose weight. 
Friends lately come from South Africa tell me it is very difficult to get anything done.  First you have to cope with the staff shortages.  Then there is the new red-black tape.  Seems if you are white they won't believe anything you say.  Can't really blame them considering what they were told when they were growing up.  Then you have to get good at avoiding the crime: live in a secured compound, do not go out after dark, lock the car doors, and carry a big gun. 
I cannot establish what the income is like or what it translates into in dollars.  And even if I could, it would not mean much with currency fluctuations in daily swing.   As always in Africa, goods are expensive, services are cheap.   But one can drink only so much gin and tonic at sundown. 
If you elect to take a job in Africa, let me know how it works out.  I would be fascinated.