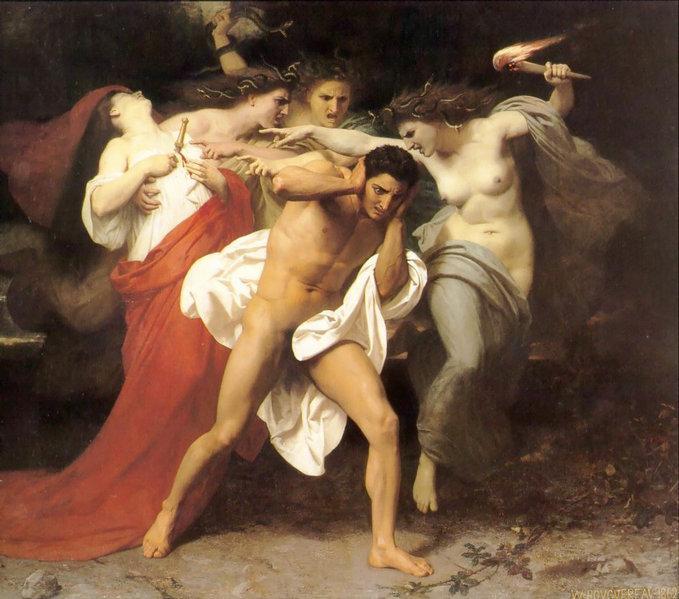 Google says it is upgrading its search engine to eliminate those annoying search-finds that are of poor quality and repeat other's materials.  My search of Google Blogs for comments on Iphegenia enTauride by Gluck turned-up garbage.  Trite comments on the ability of the singers, etc.   Thus let me go to the heart of the matter and go where angels fear to tread. 
Most composers of opera were heterosexual.  Wagner had more affairs with other men's wives than is polite to record.  Rossini retired at 37 to spend 40 years eating and entertaining pretty young singers.  He even wrote an occasional song for his favorites.  Verdi lived with his mistress, Giuseppina Strepponi, in sin for many years after the tragic death of his wife and two daughters.  Then he married the her, and lived to an old age on his farm writing mature operas.  We should thank Giuseppina Strepponi for the calm she brought to Verdi's life and hence the superb operas he wrote for her and our pleasure. 
But as in any walk of life, there are gay composers and operas.  Benjamin Britten is probably the most famous homosexual opera composer.  And what operas he composed.  His lover and life-long partner, Peter Pierce sang in many of his operas,  Today the gay theme in operas like Billy Budd or Peter Grimes disturbs and disconcerts us.  But the music enthralls.  
Then there are those operas where homosexuality is so present a part of the story that you forget and go along for the ride.  Lucrezia Borgia is the first that struck me.  I took my son to see a production at the Kennedy Center in Washington and the nudity, flesh, and overt homosexuality of the performance gave us both the shivers.  But a great night of opera.  For ultimately the story turns on the love of young man for young man—in spite of the love for Lucrezia that turns out to be matriphilia; and incipient matricide and filicide. 
Yesterday's performance from the Met, as shown in theaters around the world, was Iphigenia en Tauride.  Most comments talk of  individual emotion in the face of death or reunion with a sibling.  But the main story is the love of Pylades and Orestes.  As sung yesterday by Placido Domingo, at 70 or older, and Paul Groves, the gay aspect was bizarre.   Domingo heads Domingo's Dames at the Los Angeles Opera and has a happy marriage of many years.   Paul Groves told us in the interviews that he has just had a son.  So the love aspect of the opera between these two was kind of silly and almost disgusting.
The lady who went to the opera with me, asked very shyly after the opera: "I had a friend who did anthropology at the university and she learnt that young  Greek boys had affairs with older males so as to avoid interfering with the women who were revered for child-bearing."   
I laughed, for she was too shy to ask outright about the obvious love between two men that suffuses this opera.  And gives it a certain edge, even here in Canada and Vancouver where we have married partners of the same sex coming to company parties. 
I cannot share empathy with this poor stupid Canadian opera producer who is reported to have agonized for years on the main theme of the opera:
Despite his admiration for the work Pynkoski always felt something was missing. "There's not the love interest that you normally associate with 18th-century opera," he says. "You immediately think Iphigénie — she's the soprano or mezzo. So who's the love interest with Iphigénie? If someone answers her brother, her deep concern she has for her brother, that doesn't seem terribly interesting or exciting."   After years obsessing over the opera, Pynkoski realized the missing element was staring him in the face — a gay love story.  The Greek princess Iphigénie, daughter of Agamemnon, is held as a captive priestess on the island of Tauride during the Trojan War. In Gluck's 1779 opera Oreste, Iphigénie's brother, is forced by a storm to Tauride. Driven inland by furies (he killed his mother after all), he and his companion Pylade are imprisoned and face sacrifice. Iphigénie has a plan to free one of them to fetch help; the two men fight over who should live, each offering himself to save the other.  Pynkoski says he'd "draw a complete blank" every time he came to the prison scene.  "One day I was listening to that scene again and it was truly like an epiphany. I just remember thinking, 'This is ridiculous. They don't sound like friends, they sound like lovers.' And the moment I thought it, it felt like something had been dropped on my head."
Even Placido Domingo and Paul Groves managed to capture this gay love in a short time.  Their age and obvious heterosexuality mitigates the intensity of the story—which is afterall pure Greek tragedy.  Agamemnon sacrifices Iphigenia to get a favorable wind to Troy.  Ten years later he returns to find his wife has taken a lover, and she proceeds to stab him to death in his first bath home.  Elektra in that short, but intense Strauss opera of the same name, incites Orestes, her brother to kill his mother to avenge the murder of their father.  Orestes takes off, presumably with Pylades to turn up in Iphegenia en Tauride.  Just like Sherlock Holmes, Iphegenia did not die when her father sacrificed her on the altar of the gods.  In fact, Diana came and took her to be a virgin priestess in her temple on Tauride.  No wonder she is such a mess when her brother appears with his lover and she has to decide which one to sacrifice to the blood-thirsty gods. 
This is Greek tragedy at its best and opera at its most disturbing.  There is human emotion enough; but complexity of relations and blood enough to satisfy the crazy.   Maybe next time the Met does this opera it will avoid old men and give this opera its due and play it for what it is: a gay love story. 
Sorry if you find all this disturbing and off-putting.  I said I would go where the brave fear to tread.  But at least this is not a repeat of some trite rubbish posted by fearful commenters.  At least this is not a politically correct review of things that Google will pick up and put first.  Let us see where Google ranks this posting.  It will tell us lots about their new ranking system and the honesty that should be at the forefront of opera reviews.