Annually the Fraser Institute comes out with a survey of mining countries and ranks them according to how good a place it is to try to find an ore body, to open a mine, to operate a mine.  The Institute gives you a good guide about where to invest.  I pay considerable attention to what they say.  For this is not some fusty old institute opining; it is the honest opinion of real mining men and women who are asked their opinions of mining countries.  This is no academic ranking.  This is what people who are trying to find ore bodies, open mines, and run mines think.  And their thinking is based on hard experience. 
As it is a Sunday that I compose and post this comment, I thought that I would enliven the dull issues  of incompetence and commercial interest with pictures that most epitomize the story.  Thus you will find a lot of reproductions of paintings of The Judgement of Paris.  Recall that Paris was asked by the three godesses, Hera, Athena and Aphrodite, to decide who was the most beautiful.  Paris got Helen, wife of Agamenon's brother, as the prize for the correct answer.  And then ensued the fall of Troy and the founding of Rome.   Helen, incedentally went back to her husband after the fall of Troy.
The judgement of the Fraser Institue is about as subjective and consequential as the judgement of Paris.   At the end of this posting, I give more on this fateful judgement.  Now enjoy the judgement of the Fraser Institute.  But be wary:  the following is not for the faint of heart when it comes to corrupt politicians, venial NGOs, and the voluptuousness of Medievial, Classical, and Modern art. 
The blog-sphere is awash in comments on the most recent survey.  Most of the blog comments are brief, repetitive of others, and fatuous, to say the least.  Here follows a survey of some of the things they are saying—and I use this as an opportunity to get to the heart of the rankings. 
Alberta has surpassed Quebec as the world's most attractive jurisdiction for mineral exploration and development, From the Institute's webpage:
"Alberta's resource-friendly government, competitive taxation regime, and superior infrastructure render the province a standout for mining investment, not only in Canada but also globally," said Fred McMahon, coordinator of the survey and the Institute's vice-president of international policy research.
If you have ever tried to get to the oil sands mines from central Fort McMurray and spent a half hour going about four kilometers along Highway 63, you will know the claim of "superior infrastructure" is garbage.  Alberta and, in particular, the area around Fort McMurray is not blessed with infrastructure:  the roads are poor, they have been building bridges for two years and no progress, and the traffic is far worse than Los Angeles.  Maybe you cannot mine in California, but at least there are highways where you can move–by comparison with Alberta. 
Then you get to the mine, and better prepare yourself for a long wait.  The security system is a good example of gross inefficiency.  I calculate on the basis of observations over the past three years that at least $1,000 an hour is wasted by consultants and contractors waiting in slow lines to get in.  Work that out over a year and you see that only an industry awash in money could support such inefficiency and poor infrastructure.  The Fraser Institute did not seek my opinion on this one.
Enough realism about Alberta.  Overall, Canada did well:
This year, Canadian provinces claimed four of the top 10 spots, with Alberta jumping to first from forth, Saskatchewan climbing to third from sixth, Quebec falling to fourth from first, and Manitoba holding steady at ninth.  The other provinces and territories generally fared well, with Newfoundland and Labrador placing 13th, the Yukon 15th, Ontario 18th, Nova Scotia 19th, New Brunswick 23rd, British Columbia 36th, Nunavut 44th, and Northwest Territories 52nd.  "BC continues to be viewed poorly, with respondents citing land claims issues, environmental uncertainty, and political turmoil at the provincial level as reasons to remain hesitant about investing in British Columbia," McMahon said.
At the bottom are the usual miscreants:
The bottom 10 scores went to Indonesia, Zimbabwe, Wisconsin, Madagascar, India, Guatemala, Bolivia, Democratic Republic of Congo, Venezuela, and Honduras.
Although the Escobar Silver Mine in Guatemala seems to be proceeding apace, and the Marlin Mine continues to make money in spite of the dishonesty of British Columbian academics (see posting below.)
South African ranks low—I have often on this blog said investment in Africa is for only British imperialists and crazy adventurers:
South Africa fell to 67th place out of 79 countries in a survey measuring the attractiveness of the government's mining policies, Business Day reported, citing the Fraser Institute, which carried out the poll.  The latest ranking leaves South Africa just four places above Zimbabwe, the Johannesburg-based newspaper said. Last year, South Africa ranked 61st out of the 72 countries surveyed, Business Day said.
You almost have to sympathize with Shabangu:
The country's poor showing is a blow to the aspirations of Mines Minister Susan Shabangu to improve South Africa's standing.  The latest survey findings have been published just ahead of a roadshow to Canada and the United States by Shabangu and mining industry stakeholders to convince investors that "South Africa remains a good investment destination".  On June 30 last year, Shabangu acknowledged the "profound influence" that the Fraser survey has on investment decisions globally.
Having read these blog pieces, I turned to the report to read it myself.  Here are some thoughts prompted by my reading.
I love Nevada as a place to recreate, mine, and invest.   Thus I was sadened to see this assessment in the survey:
After the Australian states, Nevada's score suffered the biggest fall in the developed world, from 88.8 to 77.0 out of 100, and from a rank of 3rd to 10th out of 51.  According to miners, Nevada still re mains a good place to mine, but the results show that they were worried by an effort to put a huge tax increase to a referendum (the referendum petition failed to get enough signatures to be put on the ballot). The legislature did, however, enact and a new one-time mining tax.
One commenter is recorded as saying:
A recent decision in Nevada to levy a "one-time" tax on mining claim holders to pay off a State budget short-fall will prove to be fatal to exploration in Nevada. The long-term consequences will be devastating to mining in Nevada which already is burdened by high land-holding costs and a mature exploration regime."
California came up.  From where to where I cannot fathom.  The survey says:  "California's score rose by 15.2 points, but from a very low level."  Searching through the many rankings and scores, all I can tell is that California is a place of high taxes, regulatory uncertainty, environmental laws of horrendous proportions, and general labor madness.  So much for the Terminator!
Actually the whole USA comes in for mild criticism.  One comment:
"In the US, generally, Alaska, Idaho, Montana, Nevada, Wyoming, Utah, Arizona are mining friendly, but the preponderance of federal land is a problem as the US government is generally anti-mining and the bureaucracy can hold one up forever."
As for Mexico, the opinions are unanimous:
 

The increase of criminal organizations in Mexico posing as anti-mining groups is problematic. These groups continue to extort mining companies and create false claims in the press which damages companies' reputations."
The more I read about the pernicious influence of drug cartels on mining in Latin America, the more I tend to the opinion that the mining industry should come out in support of the legalization of drugs. That does not mean you can use drugs and come work on the mine the next day.  All it means is elimination of those drug lords who pose as anti-mining do-gooders and impede honest mining. Afterall, miners want to operate unimpeded in a free society. Why should do they not they support the general principle, and say: "Legalize drugs, and let us get on with mining."  I bet most Canadian anti-mining activists are active users of drugs.  At least all those that I know personally are. 
Finally back to Africa and the Chinese and what we all know: African politicians are corrupt, and the Chinese do not care and thus succeed.  Here is a quote that says this nicely:
The apparent hardening attitude towards mining in Africa is not simple. Lack of transparency and an absence of public understand ing of the industry is often manipulated by politicians/civil servants either for self gain or to cover for their failure to deliver meaningful service to the people. Add to this the Chinese way of doing things and risk will continue to increase unless we get out there and start educating.
I recommend that you download the full report for free and study it in detail before investing money in any aspect of mining.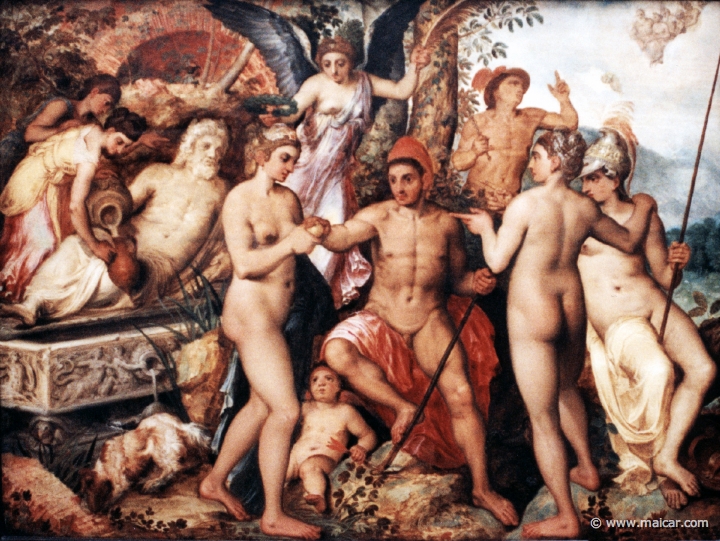 PS. 
Here is how Wikipedia tells the story of Paris:
It is recounted[3] that Zeus held a banquet in celebration of the marriage of Peleus and Thetis (parents of Achilles). However, Eris, goddess of discord, was uninvited. Angered by this snub, Eris arrived at the celebration, where she threw a golden apple (the Apple of Discord) into the proceedings, upon which was the inscription καλλίστῃ (kallistēi, "for the fairest one").[4]
Three goddesses claimed the apple: Hera, Athena and Aphrodite. They asked Zeus to judge which of them was fairest, and eventually Zeus, reluctant to favour any claim himself, declared that Paris, a Trojan mortal, would judge their cases, for he had recently shown his exemplary fairness in a contest in which Ares in bull form had bested Paris's own prize bull, and the shepherd-prince had unhesitatingly awarded the prize to the god.[5]
Thus it happened that, with Hermes as their guide, all three of the candidates appeared to Paris on Mount Ida, in the climactic moment that is the crux of the tale. After bathing in the spring of Ida, each attempted with her powers to bribe Paris; Hera offered to make him king of Europe and Asia, Athena offered wisdom and skill in war, and Aphrodite, who had the Charites and the Horai to enhance her charms with flowers and song (according to a fragment of the Cypria quoted by Athenagoras), offered the love of the world's most beautiful woman (Euripides, Andromache, l.284, Helena l. 676). This was Helen of Sparta, wife of the Greek king Menelaus. Paris accepted Aphrodite's gift and awarded the apple to her, receiving Helen as well as the enmity of the Greeks and especially of Hera. The Greeks' expedition to retrieve Helen from Paris in Troy is the mythological basis of the Trojan War.