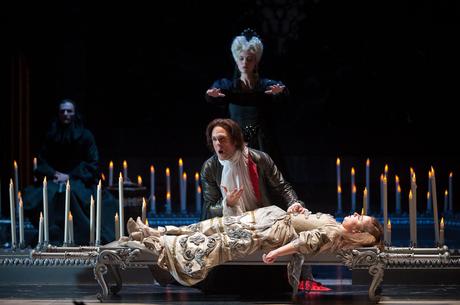 Today, Easter Sunday, a long bike ride around the city, to Granville Island.  There I listened to a solitary banjo player strumming his simple tunes. I bought his CD and chatted awhile to him.  His name is Fabrizio Bezzini; he is from Italy; a friend got him to Appalachia; he found the banjo; and now he is playing as a busker at Granville Island.
There is an incredible simplicity and concomitant complexity in his music: it sounds at first so linear; but listen longer and the weaving and waving of melody take over and your mind just gives in to the tunes and emotions of the music.
So I came home and resumed the opera I started last night: Lully's Atys.  I have previously written of Lully's Persee and was caught on Friday watching Armide and last night and tonight watching Atys.  This is opera like no other I have seen or heard.  You find little on Lully in the standard opera texts.  He was forgotten for three hundred years.  Now we have three of his fifteen operas to text by Phillip Quinault on DVD and can enjoy the masterpieces written and performed for Louis XIV.
This is expensive opera as befits a production for a great king: there are many singers; big choruses; dancers at every turn; and magnificent costumes and scenery; all the arts that make opera opera.
All three start with fulsome tributes to the king and his greatness—I suppose that was necessary to get them performed.  But once this overblown praise is done with, you plunge into the most intimate of human stories.  Well maybe the protagonists are kings, goddesses, heroes, and witches.  But the stories of these operas are at basics simple tales of ordinary people caught in love, lust, and tragedy.
Armide is possibly the most erotic opera I have ever seen.  She is in love with the hero and beds him to great delight.  Sadly she uses magic to get him into her bed and when he realizes what is going on he leave to pursue the glories of duty.  Silly fellow, in my opinion, but what an opera in the interim.
Atys is a noble lad in love with the lady promised to the king.  The goddess Cybele  desires him and so he and his beloved Sangaride are trapped in tragedy and death.  But what a noble story of love and lust gone wrong.
The stories are good, but most of all the music is amazing.  Here I hear echoes or maybe the early beginnings of Appalachian music, Celtic country, intimations of Wagner, and the subtleties of mood as perfected by Verdi.  There is no repetition of sound; every aria, every chorus is different and a perfect capture of the mood and emotion of the story and it forward movement.
Let us hope we soon get the rest of Lully's operas on DVD.  For this is the best French opera ever.  How could they ignore it for so long?  Maybe it is just too expensive to produce.  Better Handel with a few singers and no chorus or dancers.