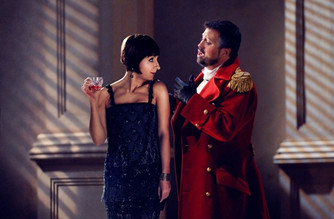 You know that summer is coming when you spend a rainy day in the movie house in Coquitlam watching the final Met Opera production of the season, and you walk out infused with music and fun to go to Wendy's for a spicy chicken burger and a baked potatoes and you all three can talk of nothing else.
Today we spent four hours and more watching Handel's Giulio Cesare and a great time it was.  Keep in mind this is a far-away provincial movie house that filled by nine o'clock with mostly old folk like me and my party to watch opera while a gray sky blanketed the mountains. 
Mostly we are a serious crowd who take our opera most seriously.  But today was different:  summer is out there–or at least spring is in the air and the trees are pink with blossoms–what is not to be celebrated?  But more:  the opera was funny, amusing, and lively.  The music is sublime and induces much foot-tapping.  As the cast, in particular Natalie Dessay (Cleopatra) danced in rhythm to Handel's music.  The humour is not in the opera.  Rather it is in the production: sly glances; subtle gestures; spontaneous movements; bold interactions; and precise control of body and voice. 
The production belongs to Natalie Dessay as Cleopatra and Christophe Dumaux as her brother Ptolemy.  Individually and together they capture the music, the story, the horror of dictators and family struggles for power, and the insane lust of sex and political intrigue. 
Both have great voices, although the prize must go to Christophe Dumaux and Guido Loconsolo as Achilles.   It was indulgence becrowned with pleasure to watch and listen to them. 
David Daniels is my favorite countertenor and I own every one of his CDs to which I listen often again and again.  Yet today he seemed listless and out of voice.  His vocal power seemed subdued and thin.  Is he getting old like the rest of us who can barely rise to the occasion in spite of incentive, beauty, and passion?  Indeed the time and future belong to young bucks like Christophe Dumaux and Guido Loconsolo. 
I fell in love with Cornelia sung by Patricia Bardon.  Who can resist so beautiful a middle-aged woman of grace, power, and dignity?   She was perfect.  But why a female to play Sextus, her son?  With so many countertenors available, we should have had a young man playing a young man.  It is, to put it bluntly, kind of disgusting to see an ugly woman dressed in ridiculous tweed trying to pretend to be an angry, revengeful youth.   Enough of trouser roles—we expect and should get more verisimilitude in opera on the big screen.  The stars are out there and we are prepared to back a lesser voice for greater story and visual reality.
Finally a word of high praise for Rachid Ben Abdeslam as Nirenus.  A light, lovely countertenor who played the humour and silliness of his role to perfection.  He captured the eunuch and servant of Baroque opera to perfection.  Hope we see him again some time.
I have seen many versions of this opera and have a few downstairs on DVD.  This is not the best sung; but it is the most entertaining I have ever seen.  It will surely become a classic for the production colors, costumes, dances, and vaudeville.  See it if you can–it is a wonderful way to spend a rainy Saturday.