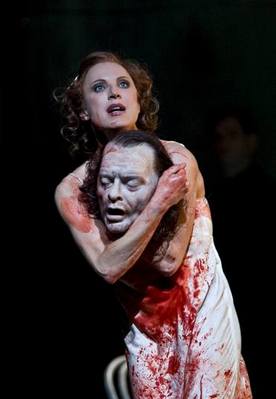 This weekend opera from the sublime to the ridiculous, or from the ridiculous to the sublime.  Depends on your opera tastes.  We started on Saturday morning with the MET broadcast of the Merry Widow, an operetta with lots of spoken dialogue and catchy tunes, and an easy love story with a happy ending.  We finished with Richard Strauss' Salome.  A short, brutal opera of lust, violence, and death.  Solome is killed by Herod's soldiers after  emoting on the severed head of John the Baptist.
At one point in the opera, Solome compares the lips of Jokanaan to the vermilion the kings take from the mines of Moab.  Try as I might I cannot find a Google reference to the mines themselves.  Plenty of leads to Wilde's original play on which the opera is based.  He puts these words in Salome's mouth as she talks of the lips of Jokanaan:
It is like the vermilion that the Moabites find in the mines of Moab, the vermillion that the kings take from them. It is like the bow of the King of Persians, that is painted with vermilion, and is tipped with coral. There is nothing in the world so red as thy mouth…suffer me to kiss thy mouth.
The opera is less wordy–Salome sings only thy lips are like the vermilion the kings take from the mines of Moab.  Kiss me.  Jokanaan refuses her offer in both the opera and the play and gets his head cut off in spite.
There is this from Jeremiah 48-31
30"I know his fury," declares the LORD, "But it is futile; His idle boasts have accomplished nothing. 31"Therefore I will wail for Moab, Even for all Moab will I cry out; I will moan for the men of Kir-heres. 32"More than the weeping for Jazer I will weep for you, O vine of Sibmah! Your tendrils stretched across the sea, They reached to the sea of Jazer; Upon your summer fruits and your grape harvest The destroyer has fallen.…
All rather confusing if you did deeper, which I am not keen to do, but did, and found nothing about the mines of the Moabites.  Plenty about the destruction of their fields, but nothing about their mines.
At this link, is Jeremiah 22-13 to 15, which read
13"Woe to him who builds his house without righteousness And his upper rooms without justice, Who uses his neighbor's services without pay And does not give him his wages,14Who says, 'I will build myself a roomy house With spacious upper rooms, And cut out its windows, Paneling it with cedar and painting it bright red.' 15"Do you become a king because you are competing in cedar? Did not your father eat and drink And do justice and righteousness? Then it was well with him.…
Further down the link page is this extensive commentary on the verse.
That saith, I will build me a wide house,…. Or, "a house of measures", or, "dimensions" (i); a very large house, whose length and breadth measure much consisting of many spacious rooms, upper as well as lower; as follows: 

and large chambers; or, "widened ones"; very spacious and roomy; or "aired", or "airy (k) ones"; through which the wind blows, or into which much air comes; so that they were good summer chambers, for which they might be built: 

and cutteth him out windows; to let in light and air, as well as for ornament. Some render it, "and teareth my windows" (l); as if he had taken some of the windows of the temple, and placed them in his palace, and so was guilty of sacrilege; but this is not very likely: 

and it is ceiled with cedar; wainscotted with it; or the roof of it was covered with cedar, as Jarchi; or its beams and rafters were made of cedar, as Kimchi; it might be lined throughout with cedar: 

and painted with vermilion. The Vulgate Latin version renders it, "sinopis"; so called from Sinope, a city in Pontus, where it is found; of which Pliny says (m) there are three sorts, one red, another reddish, and a third between them both: this is the same with "minium" or vermilion. Strabo (n) says, in Cappadocia the best Sinopic minium or vermilion is produced, and which vies with that of Spain; and he says it is called sinopic, because the merchants used to bring it to that place (Sinope) before the commerce of the Ephesians reached the men of this country, Cappadocia; other versions (o), besides the Vulgate Latin, so render it here. Schindler (p) renders the Hebrew word by this; and also by "cinnabar", which is a red mineral stone, and chiefly found in quicksilver mines; and may be thought to be quicksilver petrified, and fixed by means of sulphur, and a subterraneous heat; for artificial cinnabar is made of a mixture of mercury and sulphur sublimed, and reduced into a kind of fine red glebe; and this is called by the painters vermilion; and is made more beautiful by grinding it with gum water, and a little saffron; which two drugs prevent its growing black: and there are two kinds of vermilion; the one natural, which is found in some silver mines, in form of a ruddy sand, of a bright beautiful red colour; the other is made of artificial cinnabar, ground up with white wine, and afterwards with the whites of eggs. There are two sorts of it that we have; the one of a deep red; the other pale; but are the same; the difference of colour only proceeding from the cinnabar's being more or less ground; when fine ground, the vermilion is pale, and is preferred to the coarser and redder. It is of considerable use among painters in oil and miniature (q); and here it may be rendered, "anointed with minium" or "vermilion" (r); but it is questionable whether this vermilion was known so early. Kimchi here says, it is the same which the Arabians call "zingapher", or cinnabar. The Hebrew word is "shashar", which Junius and Tremellius translate "indico" (s); and observe from Pliny (t), that there is a people in India called Sasuri, from whence it is brought; but this is of a different colour from minium or vermilion; the one is blue, the other red; but, be it which it will, the painting was for ornament; and either colours look beautiful.
Maybe better just to enjoy the operas.